Product Description
Details
HKS Super Power Flow Reloaded intakes dramatically increase the area in which air can be drawn in due to its open air filter design. The increased volume of intake air will improve engine output over replacement panel filters. The open air filter also delivers a sporty induction note to enhance the feeling of improved performance and efficiency.
Super Power Flow Reloaded is improved over previous generation units with the following new features:
New "Super Stealth Frame" uses a honeycomb design to increase the air filter area by 30% over previous generations. The newly added frame support gives additional strength to the outer frame and makes the removal and refitting of the outer frame easier in times of future maintenance.
Aluminium back plate for added strength and durability.
Streamlined inner frame constructed of 16 parabolic fins create a simple yet effective solution for optimised air flow.
New 3 layer filter design improves filtration properties whilst maintaining the balance between, air flow, filtration and filter life.
The "Super Lip Funnel" was developed in order to maximise the air flow efficiency in the limited amount of space. This system allows for high air flow applications where space is limited.
Ambient exposure type air cleaner has larger area of induction inlet that increases intake air volume.
Engine horsepower and torque will be more than panel filters. Without air cleaner box, intake sound will be sporty.
---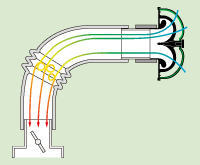 Standard
Point
Free layout and larger inlet area will increase performance of engine.
---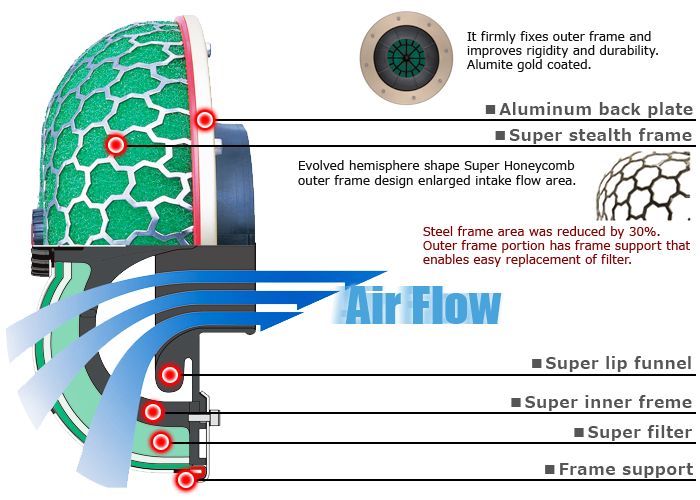 Features

Frame Support
It fits to aluminum back plate softly and fixes Super Stealth Frame firmly. It will also be a guide for filter to surface of the hemisphere that make easy for replacement work of the filter.

3 Layer Dry Filter
Dry 3 layer type Super Filter was newly developed. Intake efficiency, dust collection performance and replacement cycle are highly balanced. It is long life type filter.
---

Super Inner Frame
Shape of inner frame is streamline. 16 frames are lightweight and they guide air flow smoothly.

Super Lip Funnel Structure
Super Lip Funnel design was developed to maximize intake efficiency in limited space. High intake efficiency and compact design that enables various layout of intake system in engine compartment are highly balanced.
Reviews
Product Tags